Inside: Thoughtful gift ideas for a new business owner that are perfect for this huge accomplishment.
So, you have a new business owner in your life… you must celebrate this! Launching a new business is no small feat and it needs to be treated as such. It can be hard to find the perfect gift that encompasses what a huge deal this is, so I wanted to offer my assistance.
I love picking out gifts for people; it's definitely one of my love languages. So you can bet that I have an entire list of sweet gift ideas for a new business owner.
There are many different directions that you could go in, and the ideas below will certainly hold some winners.
So check these out, and don't hold back! For some educational gifts, why not show them this guide to help your business grow?
Simple Gift Ideas for a New Business Owner
First up, this list is full of my favorite simple gift ideas for a new business owner. It can be a very scary thing to launch your own business, it takes a lot of courage. Show the entrepreneur in your life just how filled with pride you are by getting one (or more) of the things below. You could even bundle them together in a gift basket!
2. Cute Acrylic Boss Office Decor
3. 3 Pens with Inspirational Words Idea
Funny Gift Ideas That New Business Owners Will Love
Everyone loves a little humor, myself included. So naturally, I had to include a list full of hilarious gift ideas that new business owners will certainly love!
There are many different aspects of a gift that make it the perfect present; I think adding a little laugh to it is one of them.
13. Funny I Love My New Boss Mug
14. Look At You, Starting a Business Notebook
17. The Conquer Kit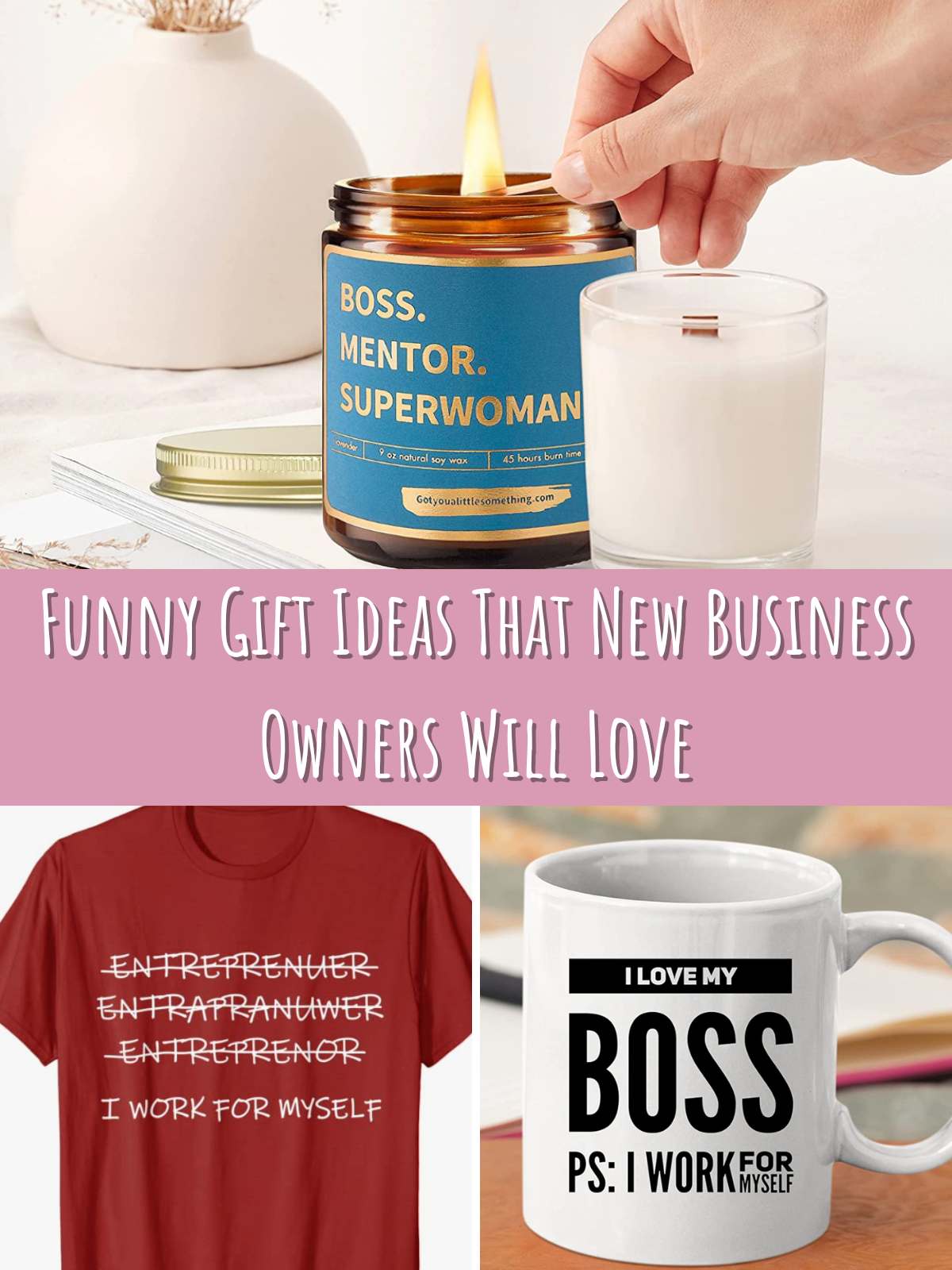 18. You Got This, Everything Is Figureoutable
19. Chaos Coordinator To Go Mug
24. Personalized New Business Gift
25. Funny Card Idea
26. Smells Like…
Perfect Gift Ideas
Not to toot my own horn or anything, but…TOOT! These are truly perfect gift ideas for new business owners. Take a look below and see which ones you think the special person in your life will love. These are going to send the message, "You are going to crush your goals!"
29.  Start Up Journal
35. Desk Name Plate
36. Nice Purse Idea
37. Funny Sweet Card
Extra Gift Ideas for a New Business Owner
I wanted to add some additional gift ideas for new business owners, so that is what you will find here. I hope that these spark inspiration within you to find the gift that will show your entrepreneur just how awesome they are.
38. A Themed Gift Basket
39. A Personalized Planner
40. Lots of Balloons
41. A Plant
42. A Dinner Party
43. A Briefcase
44. Book a Massage
45. A Cute Plaque or Desk Ornament
46. In the Company of Women by Grace Bonnie
47. The Productivity Planner
48. Face Masks
50. Gift Card to Their Favorite Lunch
51. A Ballpoint Pen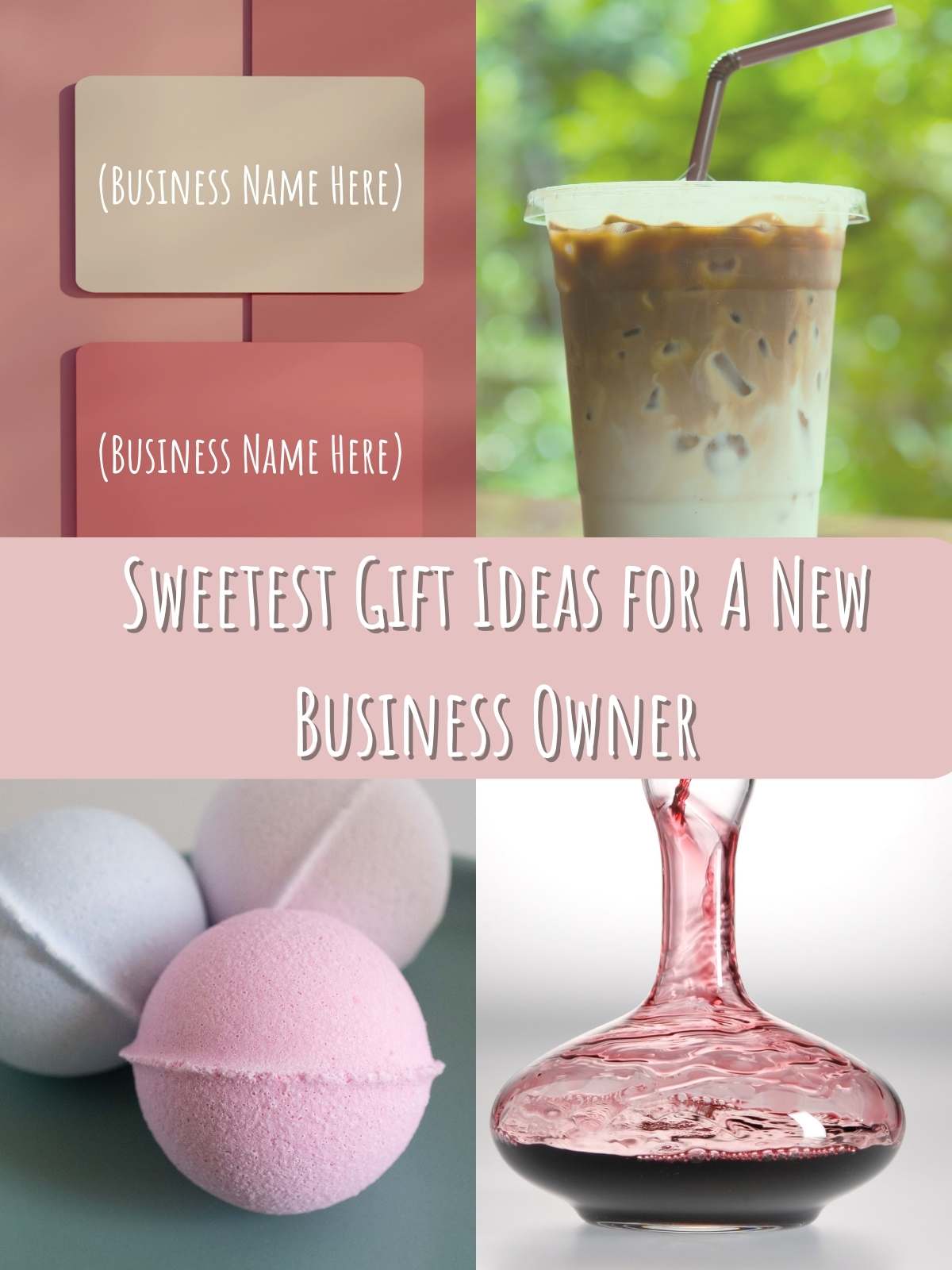 Sweetest Gift Ideas for A New Business Owner
And lastly, this list is full of some of the sweetest and most thoughtful gift ideas for a new business owner that you will ever find. They are a mix between simple and out-of-the-box, which is where I like to keep my presents. I really think these are going to be winners!
52. Business Oriented Gift
Think about their business for a moment, what gift would help them along their journey to making this business a successful one? If they have a small Etsy business that specializes in making Vinyl signs, you could figure out the brand that they use and buy them some in bulk. Start brainstorming!
Gift Ideas for A New Business Owner  53. Audible Subscription
There are going to be many hours that they spend in front of a screen or out running errands. Get them an audible subscription to help them fill their time and make it feel less wasteful. I think this is such a thoughtful gift because you are getting them something that will actually change their day.
54. You Are a Badass Affirmation Calendar
I have one of these, and it has seriously had some lasting positive effects on my life. They can put it on their desk and get some inspiration every time they pull a page.
55. A Walking Pad
If you have a little bit more of a budget, I would recommend getting them a walking pad to put under their desk. This is, of course, if your friend or loved one is starting a business that will require them to be stationary for a long amount of time.
56. A Coffee Gift Card
If you are going to start a business, you better have some caffeine to help fuel you on those late nights. I think this gift is perfect and thoughtful.
57. Create Business Cards
You can create adorable business cards with their information on them. This might help them to realize that this is real; they did it!
Gift Ideas for A New Business Owner   – 58. A Fancy Watch
Every business owner needs a fancy watch to help them get to their meetings on time, even if they are through Zoom.
59. A Bath Set
You know that owning a business comes with some stress. Obviously, this stress is absolutely worth it. But at the end of the day, having some bath bombs and bubbles to sink into will make it a little easier.
60. A Subscription to Book of The Month
I think that this would be a very sweet gift that doesn't have anything to do with their business. As fun as it is to get swept up in the fast pace life of focusing 100% on your job, having some downtime to read and relax is key to a balanced life.
61. A Book of Praise
Have all of their loved ones write something sweet down in a journal about them, and when it is full, wrap it up and gift it to them. I think this will get you some tears for sure.
62. Adorable Desk Organizer
We have all been there: After a long day of work, your desk looks like a tornado. Help them avoid that by getting them organizational desk decor.
63. A Fancy Decanter
Every fancy business owner needs to have a fancy decanter full of good alcohol on hand for those stressful days.
64. Nice Headphones
They are going to want to block out some of the distracting noise when they are focusing on their business, get them some nice headphones to do it. This will also help them take business calls while they are doing other things.
65. Gift Certificate To Their Favorite Clothing Store
When you first start a business, you don't really want to spend your money on yourself. That is why I think its a great idea to gift them a new outfit!
Becoming a business owner is an accomplishment that should be celebrated. If you have someone in your life who has recently earned this title, don't let them go unnoticed. I have found that by celebrating the small moments, you end up enriching your life and the life of those around you. Even the smallest actions make big changes!
So get out there and show your entrepreneur just how much you care. Get them as many presents as you like; more gifts never hurt anybody.
It can be helpful to have some extra direction after creating business plan. So have them check out this guide!