Inside: Best Girly Cute Wallpapers for iPhone.
Like it or not, our phones are our most consistent accessory. We spend time picking out our clothing accessories, so it only makes sense that we style our phones to fit our personalities as well.
I like to change my background for every season. Now that the holidays are over, and I am back to work… it's time to find a cute background to replace the old one. I'm not sure about you, but I consider myself a girlie girl.
I love pink, glitter, flowers; you name it. So I scoured the internet looking for the best Girly Cute Wallpapers for iPhone.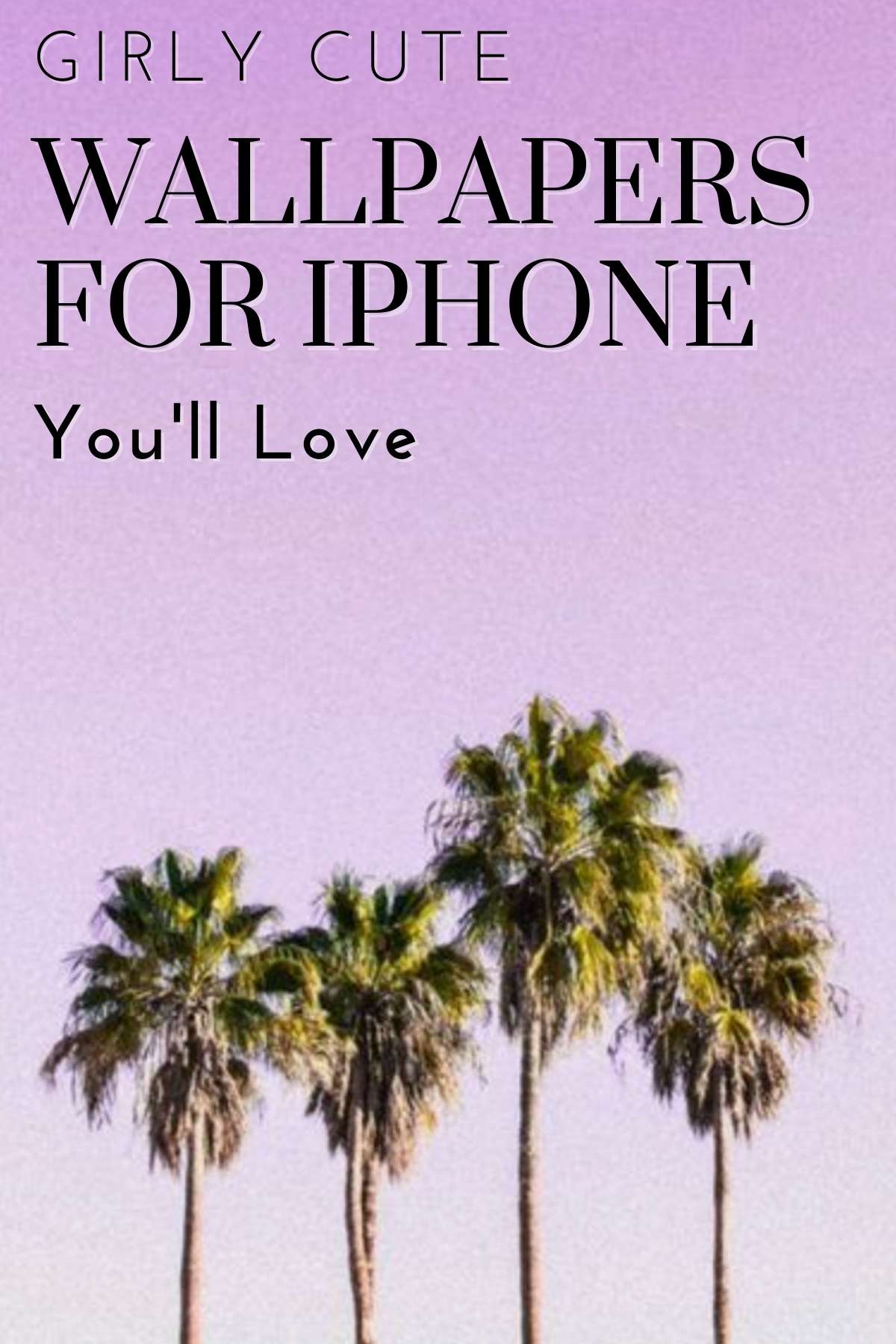 I came up with a pretty fruitful search. You can take a look below to find my absolute favorites. Your phone is about to level up in terms of cuteness. Be prepared to smile every time you open your home screen!
Girly Cute Wallpapers for iPhone
First up, I wanted to show you some classic girly cute wallpapers for iPhone. These backgrounds have everything that you could possibly want when looking for a new wallpaper to spice up your phone style.
You are going to fall in love with these! Check it out.
1. Light Pink Marble Background
2. Floral Painting with Oil on Canvas
3. Simple Light Pink Flower & Heart Background
4. Pastel Pink Marble Background
5. Gucci Pink Background w Gold
Wallpapers to Help You Embrace Your Feminine
I hate it when people try to say being girly is a bad thing; it is so nice! I have recently been trying to channel my inner feminine by unapologetically loving the color pink. Take a look at this list below to see some of the best wallpapers that will help you embrace your femininity.
11. Good Things Are Coming Pink
12. Rose Quartz Up Close Photo
13. Light Grey White Flower Background
14. Simple Pink Background with 'Hello beautiful'
15. Cute Aesthetic Photo Collage
17. Mystical Girly Collage Idea
18. Soft Pink Moon Background Idea
20. You Are Enough with Tan Glitter
Unique Wallpaper Ideas
Times, best wallpapers are the ones that you least expect. So this list is full of some of the unique wallpaper ideas that I could find. These are going to blow your mind! I made sure to include a good mix of different styles and colors so that there's some thing for everybody.
21. Travel Space
22. 2 Toned Purple Abstract Butterfly Background
23. LV Split Screen Pink Background
25. White Marble with Pink Plants
26. Tan Paint Stroke Background
27. PolkaDot Split Screen with Light Blue
29. Light Pink Background with Gold Cursive
30. Hot Pink Photo Collage Idea
Aesthetic Backgrounds for iPhone
I am always into aesthetics. And why not? Having something pleasing to the eye is a win-win in my book! So I wanted to create a section for some of the most aesthetic backgrounds for iPhones that you will ever see. Take your time looking through these ones, you will probably have a hard time choosing.
31. Cool Pink Cheetah Background with Square Around Clock
32. Tan and Gold Aesthetic Collage
33. Mauve and Pink Paint Swirl
34. Hot Pink Glitter Background
35. Light Pink Coffee Break Idea
38. Purple Wallpaper Background
39. Let All You Do Be Done In Love
40. Gold Flecks with Pink Background
Best Girly Cute Wallpapers for iPhone
I know that it might seem a little redundant to put a 'best' section in a list that contains all good ideas, but I couldn't help it. Each of these sections is unique in its own way and has something different to offer. This list is full of ideas that I just couldn't leave out.
42. Do More of What Makes Your Happy
43. Believe You Are and You Will
44. Love Yourself Pink Background
45. Glitter Bathtub Background
47. Adorable Purple Cartoon Background
Pink Girly Cute Wallpapers for iPhone
Like I said before, I am trying to increase the amount of pink in my life. This section is for those of you who are doing the same thing. Each of these ideas are pink in some way or another, and each is adorable. I think the best thing to do is see which one makes you the happiest and go from there.
51. Monochromatic Pink Aesthetic Collage
55. I hope you know how brave, sparkling, and wonderful you always are.
56. I Can And I Will Pink Background
57. XOXO Glitter Pink Background
58. Pink Make a Wish Background
59. Paris Pink Idea
Wallpapers To Make You Happy
I think many people underestimate the power of good wallpaper. It's the kind of thing that makes you feel put together, more yourself, and happier, all from one little picture. I know that might be hard to believe, but the imaging around us affects our brains. So if its an image that you like, that's even better. Below you will find a list of wallpapers that will make your heart happy.
61.  Glitter and Gold Wallpaper
Girly Cute Wallpapers for iPhone You'll Love
Girly-themed things are truly the cutest, and you can't change my mind. I find that the girlier something is, the happier it makes me. As a kid, I used to be made fun of for being girly, but I am reclaiming this part of myself. It is a personal power, not a weakness. I will showcase my girliness in everything I do: from caring for others to my writing, to my phone screen.
72. Don't Touch, It's Not Your Phone
73. Butterfly Mid Flight Background
74. Trippy Mushroom Smiley Background
78. Lip Painting for Background
79. Radiating Positivity Background
80. Black Background with Planets
Girly Cute Wallpapers for iPhone: Conclusion
I know, how could you possibly choose with this many girly cute wallpapers for iPhone? The good news is you don't have to! Why not change it out as often as you like? This could be a weekly thing for you; that way, they all get their chance to shine.
After all, there are over 80 options here. Sure, you may need to change it a few more times than weekly to fit them all it, bit I think it's worth it. Your phone is as prominent in your life as the clothes you wear, so why not make it just as cute?
These wallpapers are a wonderful place to start. Who would have thought that you could style your phone?
I hope you enjoyed this list and that you found a few wallpapers you like. I have so many other fun things to share with you. If you are looking to add a little more pink pop to your life, check this out.