Inside: How to write a blog post outline the simple way.
So, you have decided to start a blog… that is amazing! This is such an incredible journey that you are embarking on. When I first started out, I felt so overwhelmed by how little I knew and how much I needed to learn.
I want to help you avoid that stress as much as possible, so I have been creating some really helpful articles that cover some of the most important things you need to know when starting your blog.
Today, I will be discussing how to write a blog post outline a simple and easy way.
Your articles will be the most important part of your journey. You can't have a thriving blog without them, so of course, the quality of your work is very important. I think one of the most important things that you can do is remain consistent with your work. Below you will find an outline that is a wonderful jumping-off point for you to start with.
How to Write a Blog Post Outline
Before we get into the outline, I wanted to cover two very important things that you need to do before you begin writing. By adding a few simple steps to your writing routine, your blog can see some serious growth.
Find Your Topic
I know how much easier it can be to only talk about topics that are interesting to you but finding the ones that people are talking about will help your site gain traction. You want to solve a problem for your audience. Whether that be by giving them inspiration on how to fix up their home or… start a blog.
Finding a topic is such an easy way to kickstart your blog into that fast lane of success. You can do this by going on search engines that will tell you what people are looking up.
You can choose a niche phrase that goes along with whatever your site is about and go through the questions that are discussed in regard to it. Pick a topic, but not before making sure it is something your readers will be actively searching for with a little keyword research.
Pick Your Keyword
You may be wondering, what is a keyword? Well, a keyword is basically the topic of your article. It is what google will search for when going through your work.
Imagine it like this: Someone looks up a question on google, and that list of articles pops up. Those pop up because the question that was asked featured that keyword, so google knows that this article is discussing the topic the person is searching for.
There are short-tail words and long-tail keywords. An example of the two could be the difference between Paleo Diet and Paleo Diet Dinner Ideas. The latter is longer. When you are starting out, you are more likely to succeed if you choose to go with a long tail key word because is less competition with it, and you are more likely to rank on google.
There are lots of tools you can use to figure out what your keywords should be:
I use SEMRush which is a powerful software platform to find high traffic keywords. This is possibly the best tool for SEO growth. Get a 7 day free trial right here.
You can also install the Keywords Everywhere Chrome Extension which is an easy and free way to start your search.
One of the best ways I've found to figure out a good keyword for a post is by simply Googling my topic and looking at what comes up in the search box after the main topic word. This step alone can give you so many great ideas.
Brainstorm Your Angle
When you are writing this article, you need to be supplying your reader with information in a unique way (meaning you infuse it with your personality, you don't have to recreate the wheel, just decorate it with whatever color you like). Before you start writing, you need to write down the following things:
The Topic/Keywords
Your Angle (aka what you will be teaching or offering)
The Big Pieces of Information you want to make sure to cover.
Once you understand your angle, you can write down your pieces of information. For example, if you look at this post, I introduced the topic in under 150 words and then immediately jumped into the information.
I broke it up into sections so that it was easier to read and digest. I knew I would walk you through your outline, but I also wanted to give you information on how to find what you will be writing your topic about. You will see a clear example of this below.
Blog Post Outline Tools
Having a few tools to help you when creating your outline will help the process flow much easier for you.
1. Google
The most basic tool you have is your own search on Google! This is where we always begin. Put your keyword in the search bar (best to do this in an incognito window for the most accurate information) and browse the top 5-8 posts that you see. Note which are the major topics covered in these posts.
This tells you exactly what people searching for this topic are looking for!
There are software programs that will do this for you to make things easier like SEMRush, Rank IQ and others – but it's simple and most accurate to do this step yourself.
2. Topically.io
This is a great and free tool to learn more about the important elements of your topic. It functions as a mind map setting up sections and subsections you can easily use to help your outline creation process come to life.
3. Also asked
This tool is great to help bring to life questions that your readers might be asking about your topic. You'll want to address as many of these as possible in your post to ensure you are covering your topic in a way that is most helpful when new readers land on your site.
Creating A Basic Blog Post Outline
I am going to break this outline up into each section that you will need when making your own blog post. This way you can use it as a checklist to work with as you create your own post.
Now, remember that at the end of the day, this is YOUR blog. If there is something you want to do differently, you can try out whatever you want. There is no one way to succeed.
1. Introduction
Your introduction should always have your keyword in it. This will tell your reader(and google) exactly what you will be talking about right in the beginning. Do not make your introductions too lengthy. Our attention spans as humans are not what they used to be, so you need to get into the meat of your post right away.
A good introduction word count to shoot for is 150 words or less.
This way, you can say hi, introduce what you are talking about and why, and then get into it.
2. Topic Section One
Here is where you get into what you are talking about. I think the best way to space this out is by starting from the small things and building up. So introduce your topic/subtopic and write about it. If the information in that section is lengthy, try to break it up with subheadings.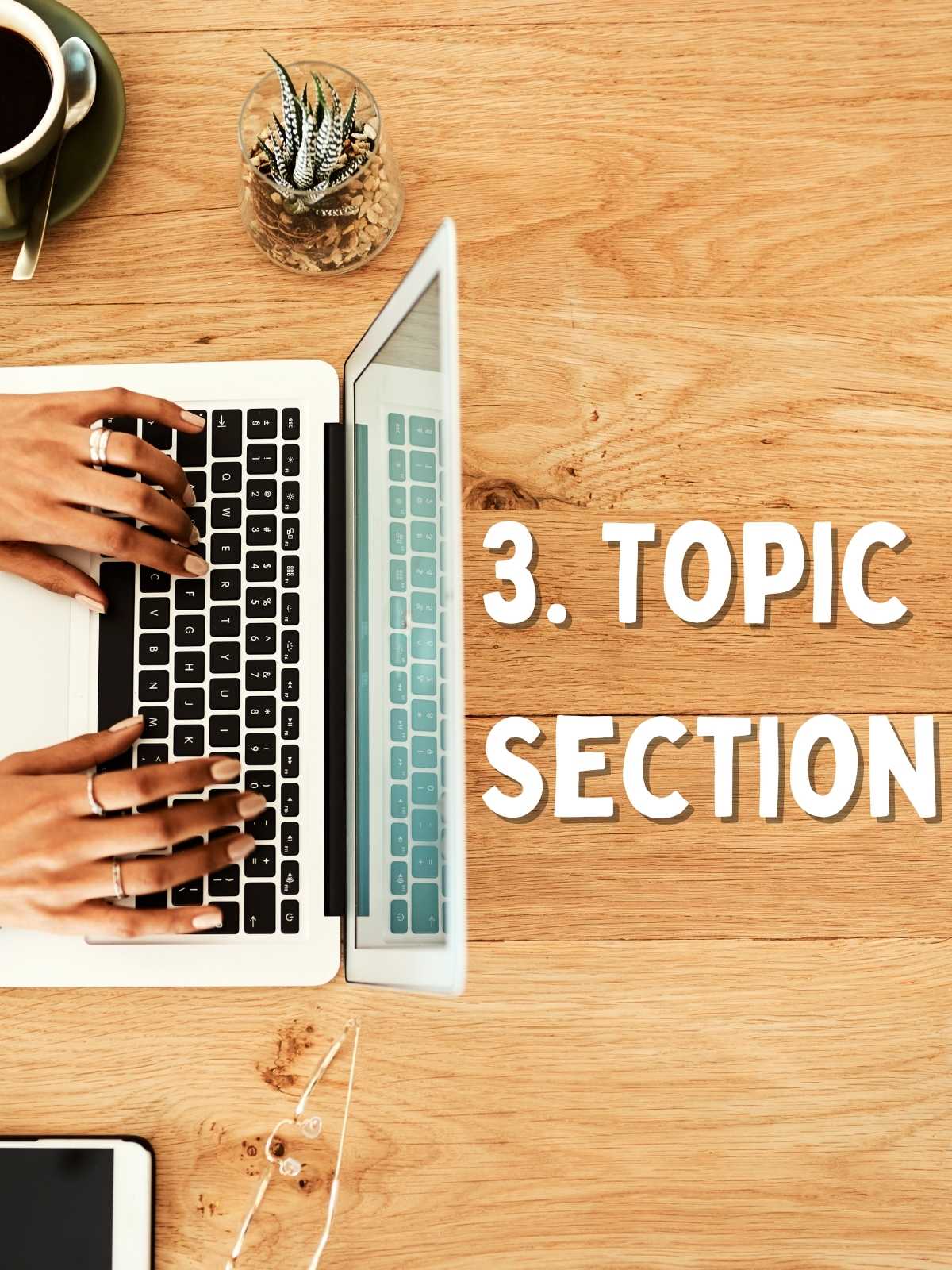 3. Topic Section Two
Next, just follow your topic up with the next piece of information you want to share and repeat the process again with the subheadings. Creating uniformity and flow will help your blog do better. Repeat this as many times as you need for your article.
4. Conclusion
Just like your introduction, you will need a short conclusion. This will wrap up all the information you talked about into a neat little bow.
I find that these are the most satisfying to write, so I know you will have fun with it. For an example of a conclusion, see the one that I wrote before. In fact, I challenge you to take a look at this whole article to find the different aspects that I talked about here. Obviously, these can vary and look different based on the topic, but the bones are there.
How to Write Your First Ever Blog Post Outline
Now you know how to write the outline for your first-ever blog post! This is such an awesome moment. I know you might feel like you are at the very beginning of your blogging journey, but everyone has to start somewhere.
If you just stick with this, I know you have the power to be successful. Plus, there is so much information to help you online.
I have many that help walks you through these beginning months, so if you want to continue learning, let's talk next how to get this blog post to rank on Google.
Learning is the most important thing that you can do; it is the driving force that will push you from beginner to expert. You really do have the power to get there; you just need to keep studying.
See what works for you and your blog, and make adjustments as needed. This is a long journey, one where you will constantly be learning more and more ways to improve at. You got this!