Inside: I'm sharing how I made money as a blogger over the past 12 years and the various income streams available to you. 
We've been blogging for over 12 years now, which seems so crazy sometimes! Over that time the blogging world has changed dramatically and we've grown + adjusted as we go.
We are excited to be training a new generation of bloggers how to make money blogging, but gratefully you can learn from our wins and loses and do it the right way… the first time around.
If you want to build a digital brand that will thrive sharing, selling and communicating in whatever is coming in the next years – sign up for our 5 day challenge starting today! And for those of you who are curious about how we've made money over the last 8 years, here's what our brand and business structure looked like year by year…
How to make money blogging through freelance posting
2010-2011
I have one word for this period of the blog. FREELANCE! When I started blogging and we were just beginning to grow an audience and a site, I began freelancing my created blog content to a number of larger sites. In any of our blogging courses the first thing I always tell people when they want to monetize a brand early on is to just jump in and start freelancing. It was the best decision we ever made and I still see that type of business model working wonders these days.
During this season of blogging I spent a LOT of my work time crafting. The kids would nap and I would craft, the kids would sleep and I would craft… wash and repeat for about 2 years. I posted my favorite created content ever during this time over on A Subtle Revelry and produced anywhere from 5-12 projects a month for large sites from e-harmony (my tax guy still laughs that I got a 1099 from e-harmony:), to Design Sponge, Apartment Therapy – really anywhere I could create content + get paid well for it, I did!
This business model allowed me to grow an audience really organically the first couple years. Readers of these larger sites would see our names, like our style, and click back to see what we were doing. Although I received a small amount of money for our sidebar ads and some sponsored posts on the site, harnessing the value + income of freelancing was a really was a great way for a new blogging momma of twin babies to earn her keep.
How to make money blogging through brand partnerships
2012-2014
This period I look back on with so much joy – we were finally figuring out what it looked like to blog for profit. Sidebar advertising was at it's prime and I was having a blast just trying out whatever I wanted to do!
During this phase of our blog we started having contributors create content for us, I started working exclusively with professional photographers and our business expenses increased. The awesome thing was this it freed up more time for creative projects I was really passionate about. We launch our e-mag Styled. Magazine during this time and started doing more and more sponsored posts with brands.
These couple years felt like the Wild West and like anything was possible. It was a turning point from me having a little side job to really coming into my own as a blogger & business owner. I don't think any of us really knew at this time what the coming years would look like, but Pinterest had just started and it felt like our collective blogging voices just received the microphone we needed. It seemed like EVERYONE was listening!
Brands were also really starting to take notice of bloggers during this time and we landed a couple partnerships that allowed us to take big business leaps forward.
During this season I also started to work closely with the Altitude Design Summit. I taught classes for them and launched our first blogging course on the site. I felt like I had hit the gold ticket with blogging and was so excited to share it with whoever would listen.
Make money blogging with large media agencies
2015- Sept 2016
In 2015 we published our first book which felt like a life bucket list checked off! I'll never forget the day we launched and I brought the kids with me down to Barnes and Nobles to see mommy's book on the shelf. It was surreal. I got a decent advance from our publisher for the book and was able to continue growing our team during this time.
I like to call these years the blogging heyday! We signed with Mode Media in early 2013 and spent these years creating tons & tons of branded content. We had branded recipes, balloons, posts and it seemed the flow of content was just never going to end. I would drive over to SF or fly to LA to shoot commercials for brands. During this time I landed a year long ambassadorship with Marie Callender's – I produced radio shows for them and showed up on Fox News talking about pies. 🙂 It was really fun and crazy few years.
Our team expanded to meet the demand and soon it felt like we would be riding this wave, doing this dance – forever. I was teaching a ton of blogging courses through different sites during this time and would always tell people – DIVERSIFY. You must do it to survive. Yet, in practice I did the exact opposite.
We bought a house and tore it down to the studs, we planned and took vacations and really settled in to what seemed like a new normal in running this online brand.
During the 2016 year I stopped doing any and all freelance work, I stopped teaching our own blogging course, I became a branded content producing machine. Everyone was talking about blogging hitting the rough patch, about sponsors changing dramatically and I didn't get it, because for us things had never been better.
Making money blogging through selling online courses
Sept 2016-Dec 2017
Until they weren't.
In Sept 2016 Mode Media went belly up and left 100's of content producers out of a lot of money. We not only lost our main contacts for the vast majority of our brand partnerships, but since bloggers normally get paid anywhere from 60-120 days after creating content, we basically lost 1/2 a year's pay on content we had already created and shared.
It was stunning how quick things had changed.
Luckily, we had been already starting to dream of what a different business plan would look like and shortly after Mode closing I launched 2 new courses, one on blogging and one on connecting with brands. And we survived, in fact we've ended up in a better place than we were before the fall.
I like to tell myself that it was a very expensive and needed business lesson in diversification.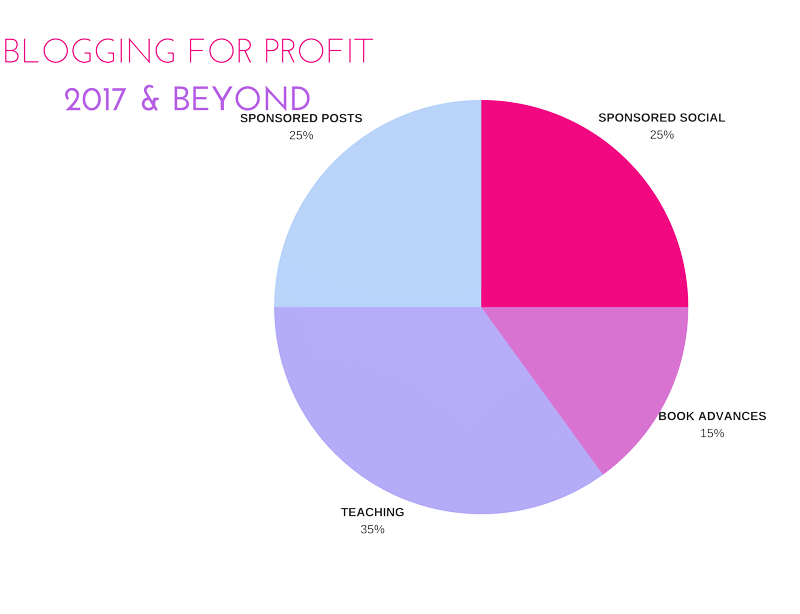 Making money blogging through diversification & Affiliate income
2018 and beyond!
This last year has been much more diversified for us, which I think leads to a healthier blog and healthier business lives! In a way, being so high and then being dropped down helped me to clarify my true passions.
One huge thing that has changed in the last year is the amount of sponsor money funneling right to our social media accounts. I would guess about 1/2 the content we create these days never sees the light of the blog – it is a instead a FB live event, an Instagram post, a social video promoted on Pinterest. The diversity in platforms has been a lot of fun for our team. Without needing to create long form posts behind everything we do we have a lot more leeway creatively to jump in and experiment again.
One thing that has been a challenge is that many of the LARGE media companies we used to rely on have gone belly up – in their place are a number of smaller media companies, which is great because the campaign options are seemingly limitless. But as a creator of content, keeping track of everyones different accounting, requirements, and pay structure can make my mind spin.
During this last year we have seen the biggest traffic growth ever on the blog, all the while sharing less content than ever. In an age when other blogs all around are closing up shop and heading home.
That my friends is the power of learning and harnessing your inner SEO goddesses.
We launched 2 more books in the last year and I've come to love seeing a more permanent, paper forward version of what we do.
We've also put a much larger emphasis on teaching and training this year and I've found it really is my sweet spot. Between the blogging courses, this SEO focused site, and the upcoming free branding course we have hundreds of you friends coming through to be trained up in what moving forward as a digital brand who can survive whatever the next shifts come to be. I love seeing it all happen!
Moving forward the sites that become established at their own brands, instead of tied to a specific medium (blogging, books, Instagram) will be the ones that thrive in our ever changing online world.
It is so important to diversify not just our income, but also our brand presence AND TRAFFIC SOURCES to be ready for whatever is coming next! If you want to learn more about how we've been able to do that, here are some products that we offer.